For those students looking for help getting in to Grad Transitions, here are some hints and a link to get you started!
Log in to the Moodle Site using your Learn 60 account information   IE. joesmith14@learn60.ca   Password is your student number with two zero's at the beginning     IE. 0012345678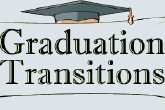 Select Stick to the Plan and then GT
Enroll in the course using the enrollment key                          2018
Complete the first assignment and submit it to your GT coach as soon as possible!
Graduation Requirements Checklist
Visit your GT Coach if you have any questions!